Past vs present
TOPIC id: 88500
Replies: 6 - Views: 721

Empty_dreamz
2011-08-08 07:01:19
______A p0eM______
In the old days,
When the earth was green,
When the sea was blue,
And bright was every scene.
When the people were few,
And the good was pure,
When diseases were less,
And better was the cure.
When there was no hate,
And everyone loved each others,
when there were no classes,
and all lived like brothers.
And now all you see,
is a polluted atmosphere,
the smoke and litter,
and the dusty air.
S0me dangerous diseases,
that have no cure,
And the food that we eat,
is also impure.
there are st0ne-hearted people,
with no feelings of Love,
oh God ! Make this world. . .
The heaven,like above. .

Florisha
2011-08-08 07:24:06
wat u said through a poem is TRUE ...really nice topic..kp it up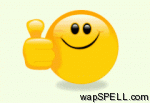 Lulu
2011-08-08 08:02:08


Such awesome poetry!!! Don't stop posting!!!


Sweet-tears
2011-08-08 09:34:51
yeah our present is like a nightmare with pollutions,diseases,climatic hazards,wars goin on etc..Our future is unsurely clear,we dont even know if we could make through till the end of 2011..as said in the lyrics of this memorable songs
"we are the world,we are the children,we are the ones who make a brighter day so lets start giving,theres a choice were making,were savin our own lives,its true we'll make a better day just you and me"

Missing_GaL
2011-08-08 11:14:55


snowfall
2011-08-08 12:14:40

nice

dear. our dream should come true .

licec78
2011-08-09 07:10:55

What is wapSPELL?
wapSPELL is an effort to unite like-minded people from all over the world. It is a social networking service for mobile where people from all over the world can be in touch with each other. You can easily find friends of your own interests.

Every user can make rich profiles, which act as amazing introduction to others. You can easily express yourself through our discussion forums. All the users can be contacted via the conveniently available private messaging. We also provide you an innovative mode of communication which we are the first ever to provide - The Bubbles. Bubbles are instant messages which get delivered right in front of the receiver without any delays! Bubbles are ultra fast and super convenient. Users can also gather in chatrooms to have group chats along with PMs. To make your messages and texts much more expressive and lively, we provide you more than 5,000 smilies and icons along with various formatting tags (known as Style Tags). They can be used all over the site. :)