Friends, Downloads, Info - mobile!

NEXTON01's profile

NEXTON01:

USER ID: 54524
A/S/L:
25/Male/Lagos,.,Nigeria
Country: ()
Joined On:
08-05-10 - 17:14:40
Online Time:
1363 Hours, 49 Mins
Real Name:
-neL
Height:
-6ft
Ethnic origin:
-SuNshiNE staTE
Hair:
-Eb0nY
Eyes:
-GreY
Profession:
-stuDENt: EnGIneerInG
Dislikes:LIARS
INSULT
TROUBLEMAKERSHates:*I hate fake ids, just the way i hate the devil.*Too much bubbles makes me sick.*I hate arguement and gossip.

Bad Habits:*I laugh t0o much when i'm in good mood.

*I also expunge my buddies. Hehe i mean my inactive and negative buddies.

Good Habits:*I also love learning, i w0n't mind if you be my teacher.

*Im always oblinging to good people who need help.

*I sh0w humble respect to evry0ne around me.

More text:

Im just myself c0z im n0t u. I am a vigorous young man.

Im funny to those who luv g0od j0kes. My wish is to make u laugh.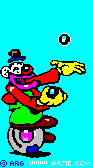 I only keep p0sitive n active people as frndz. So would you chill out wid mE?

My Quote:

BE YOU BLACK OR WHITE, LET'S C0ME T0GETHER AS 0NE.


*I will not be able to accept more buddy request, please don't send me.



>>> Feel free to
LIKE
or
DISLIKE
me.
Activity Points: 345695